Riding Gear
Let us help take the guesswork out of buying your motorcycle riding gear. We frequently feature the latest riding gear that's designed to appeal to riders of cafe racer, classic and custom motorcycles. From motorcycle jackets to helmets, gloves, boots, jeans & accessories, you can read all our riding gear reviews here.
You might spend a few months (or years) customizing your motorcycle, but most helmets go on your head straight off-the-shelf....
Icon 1000 have given us a glimpse of what the future of riding gear may look like with their new...
Riding a motorcycle requires a basic set of skills, but building them takes knowledge, know-how and most importantly, passion. Similar...
Let's be honest. There aren't many things you can do in public that are as pleasurable as riding a motorcycle....
Named after the untamed mountains and wilderness of the Canadian northwest, these are the Rev'It! Yukon motorcycle boots. Inspired by...
Bell Helmets set the benchmark in open-face helmet design with their Custom 500 helmet. The latest addition to the 500...
HUCKBERRY ESSENTIAL EDC KIT The ultimate keyring accessory. This handy little set of tools includes basic items to help you fix...
Using headsets to stay connected in a group ride can make things a lot easier, or a lot more frustrating...
Stars Wars associations aside, the Scorpion Covert helmet is ready to battle the real world with its DOT approved Polycarbonate...
When you're talking riding gear, leather has considerable protective qualities and generally looks great in a jacket. When it comes...
There are so many things to consider when buying new jeans for the bike. Cut, colour, style… but hang on...
That effort got me through daily commutes for about a year with tinny, distorted renditions of whatever garbage 22-year-old-me thought...
It's not often we find riding gear in the sportbike sector that appeals. To us, most of it looks a...
Motorcycle jackets have come a long way since the ton-up boys' heyday. Back in the '50s, it was all black...
If you're looking for a classically styled motorcycle jacket but don't want the bulk or weight associated with leather, waxed...
Instead of the usual fold-down visor, the Husqvarna Pilen helmet features a goggle visor that secures with a rear latch—...
A good set of motorcycle luggage will literally go a long way. Whether you're looking for a storage solution for...
Anyone who has ever emerged from a sticky situation unscathed and had someone tell them how "lucky" they were, will...
Labelling a product as 'premium' tells customers you're offering something that's superior to other alternatives. Italian motorcycle riding gear manufacturer...
The new 2021 Rev'it! Dirt Series riding gear collection is aimed squarely at the adventure rider segment. However, amongst the...
For most of my riding life I've been wearing a Shoei on my head, but I've always wanted to give...
The safety level of riding gear available to motorcyclists has come a long way in the last 10 years. Manufacturers...
A spontaneous retro helmet party ignited and all the manufacturers were invited. Bell, like someone who arrives two hours early,...
One of the greatest things about riding motorcycles is how they allow you to disconnect. Whether it's by disconnecting from...
Back in the 1960s and 70s Alpinestars made a huge impact on the motorcycle scene with their award-winning Oscar motocross...
If you're looking for a non-leather motorcycle jacket with timeless style, waxed cotton is the answer. The most iconic waxed...
I sink a lot of time and money into buying the right motorcycle helmet. And I don't know about you,...
When Dimitri Coste isn't out photographing beautiful fashion models on Parisian catwalks he's probably blasting his way around the countryside...
In my signature footwear colour scheme of brown leather, the Forma Naxos boots are certainly very lovely to look at, but...
Denim Jeans with a Protective Punch Riding pants are often overlooked when taking the bike out for a quick ride...
If you have ever delved into the chopper scene you're sure to have heard of the brand Biltwell. Based in...
Pando Moto proved from the very early on that they are capable of making great looking riding gear. For 2020...
Every motorcyclist needs a leather jacket in their riding gear collection. Protective motorcycle apparel manufacturer Alpinestars claims to have created...
Every year my family struggles to find me the right Christmas gifts. They know I'm obsessed with motorcycles but have...
If you're a fan of Moc toe boots but want footwear that'll keep your paws properly protected then consider these...
Vests haven't previously played a role in my wardrobe of motorcycle gear. The fact that I spent most of my...
Bomber jackets are well and truly back in fashion. Originally designed for, you guessed it, fighter pilots the style has...
Shoes and boots designed for motorcyclists often battle with finding a balance between form and function. They tend to offer...
It's a perfect collaboration. In 2016, renowned helmet brand Bell Helmets brought back their iconic full face Moto 3 after...
So you've decided it's time to build a cafe racer of your own. Although you may be planning on fabricating...
The Bell Bullitt wasn't the first helmet to venture into this realm, but it was certainly the most talked about...
Pin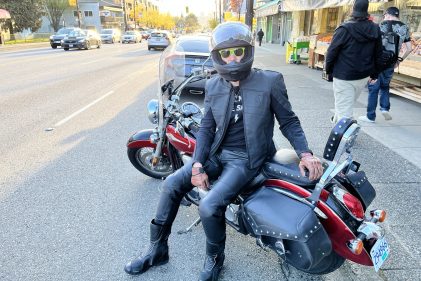 I love jackets, and I love motorcycling. I was also raised vegetarian. So when forward-thinking Spanish gear brand Andromeda Moto...
More and more riding gear manufacturers are catering to women these days, giving those who ride far better options than...
In the past, despite retro bikes and cafe racers existing, gear manufacturers have pushed ever onward to newer materials and...
After the success of the 'Speed' and 'Sakura' motorcycle gloves English riding gear outfit, 78 Motor Co, has released an all-new...
Casual and riding gear are two terms that don't belong together. To me, the word casual infers less safe, but...
When I unpacked the Icon 1000 Basehawk jacket the first thing that impressed me about it was the jackets design....
Finding a good motorcycle bag is tricky. I tend to be the sort who uses one bag for everything –...
Finding an urban motorcycle jacket isn't hard; seems everyone has one on offer. Finding a good one — one that's...
In today's high-tech world, a basic cell phone is almost non-existent, often being a legacy option offered for those that...
Economical, compromising, austere — these are not words you'll hear in relation to Ruby Helmets. Top-of-the-line, luxury, opulent? That's more...
Sometimes we forget that riding gear goes beyond what we use to cover our skin. The Nixon Landlock GT backpack...
Dean loved his old DT175. It was held together with electrical tape and orcish ingenuity. He mostly rode it from...
A helmet for any occasion. Whether you ride a cruiser, a cafe racer or an adventure bike the new AGV...
The Saint Unbreakable Denim Gloves use a 62% UHMPWE and 38% cotton blend to create what they refer to as Unbreakable 4.0...
A few months ago I wrote an article about the MotoMAX Royal Enfield 650 Scrambler. It was created to fill...
When I got the plastic and foam bags off the helmet, that Gloss Blood Red hit me square in the...
True addicts of the two-wheeled persuasion don't let their rides sit idle an entire season simply because it's cold. All...
When it's hot enough outside to fry an egg on your tank the last thing you want to do is...
Riding gear brand Icon are, without a doubt, experts at what they do. Their motorcycle apparel has proven its ability...
Layering is a great way to insulate yourself against the cold, but adding too much bulk can be impractical. The...
You can spend as much or as little as you want on your riding gear. There's a school of thought...
"The SEVENTYFIVE helmet is a tribute to a style icon of the 70's. DMD has introduced a new replica of...
If you're a fan of Bavarian airheads, oilheads, water-cooled boxers or flying bricks you can now fly the BMW flag...
The cafe racer scene has a rich history dating back to the 1950s and there are very few brands left...
Camo gear was never meant to make you stand out. But, if you spend most of your time navigating the...
I was going about my morning routine, perusing motorcycle blogs with a coffee in hand. As I skimmed through my...
**This article was written in collaboration with Road Guardians, an organization dedicated to teaching motorcyclist first aid and accident scene...
The Downtown jacket is the perfect addition to every motorcyclist summer riding gear wardrobe. Constructed from 12.5 oz indigo denim...
In the world of motorcycle helmets original Moto 3s had reached cult status. Despite brittle outer shells and decaying...
Motorcyclist airbag suits are compulsory for MotoGP riders and are soon to be required for American Flat Track racers as...
You would think that after ten years of hearing rider feedback on every kind of riding gear imaginable a company...
Since John Bloor resurrected Triumph Motorcycles in 1983 it's been nothing but success after success. Triumph has, of course, been...
If you're in Melbourne this Sunday (1st of July) and you're on the look out for a Cafe Racer or...
For a motorcyclist, nothing beats a clear blue sky, warm breeze and the open road. But one of the biggest...
If the third times a charm the fifth must be downright glorious! These Icon Superduty 5 motorcycle boots are the...
To bring in the new year our friends at 100MPH have just released a new range of moto-inspired t-shirts for...
Introducing the latest addition to our go-to riding gear, the Dainese Tan-Tan boots. Dainese has been making protective motorcycle riding...
REV'IT! has continued to еxраnd their Urban Lіnе of motorcycle jackets with the addition of the Stealth Hoody. Designed to...
Making a great product doesn't always mean reinventing the wheel. Lithuanian riding gear manufacturer Pando Moto sell the customary range...
Serious motorcycle boots with serious motorcycle style. The Elsinore boots have been a stand out in the Icon range for...
When you choose to travel on two wheels, you accept the fact you'll get a little wet on occasion. Waterproof...
If you've ever performed side-of-the-road maintenance on your motorcycle, you know even simple fixes are impossible without the right tools....
The subscription box business model has been around for a few years now. The basic concept is that for a...
Clutch Moto is a 100% Australian made purpose-built riding gear brand based out of Sydney. It was established by 3...
The Box Hill Jacket features top-grain, abrasion-resistant leather construction that's designed using a slim, modern cut. Quilted and horizontal accent stitching and...
We're big fans of Nexx Helmets heritage range. I already have two of their X.G100 helmets in my collection and consider...
Any helmet company can build a retro-styled helmet. But Bell Helmets has the history to back up all claims to...
Motorcycles are involved in rear-end collisions more often than you'd like to think. Infact in the USA, as many as...
It's winter down here in Australia and the first-morning ride I did wearing the Marauders was brisk, to say the...
With a design influenced directly by the first racing suit Dainese ever produced, the Toga, the Settantadue Toga72 jacket oozes 1970s...
Australian brand Liberta Moto has established itself as a force to be reckoned in the women's riding gear market. They...
When facing the decision of which motorcycle backpack you should buy there are many factors to take into account. From...
In 1953 Marlon Brando appeared on screen wearing black leathers and riding a 1950 Triumph Thunderbird 6T. The movie was...
Biltwell has been producing retro styled helmets since before many of the larger manufacturers jumped on the bandwagon. Unfortunately for...
When it comes to riding gear every motorcyclist should own a good leather jacket. Historically leather has played a huge...
Roland Sands Designs are continuing to expand on their range of riding gear in 2013 with a handful of new...
I checked out the sizing chart, measured up my hand and selected the extra large gloves. In black, of course....