During the week I spent with the Aussie Triumph crew in London we started kicking around the idea of doing a custom build based on the new T120. Unfortunately, due to the amount of upcoming work they had (thanks to the release of the new bikes), the idea was shelved, but I couldn't forget about it. So I started looking at how we could make it happen and most importantly, figure out exactly what it was that we would build.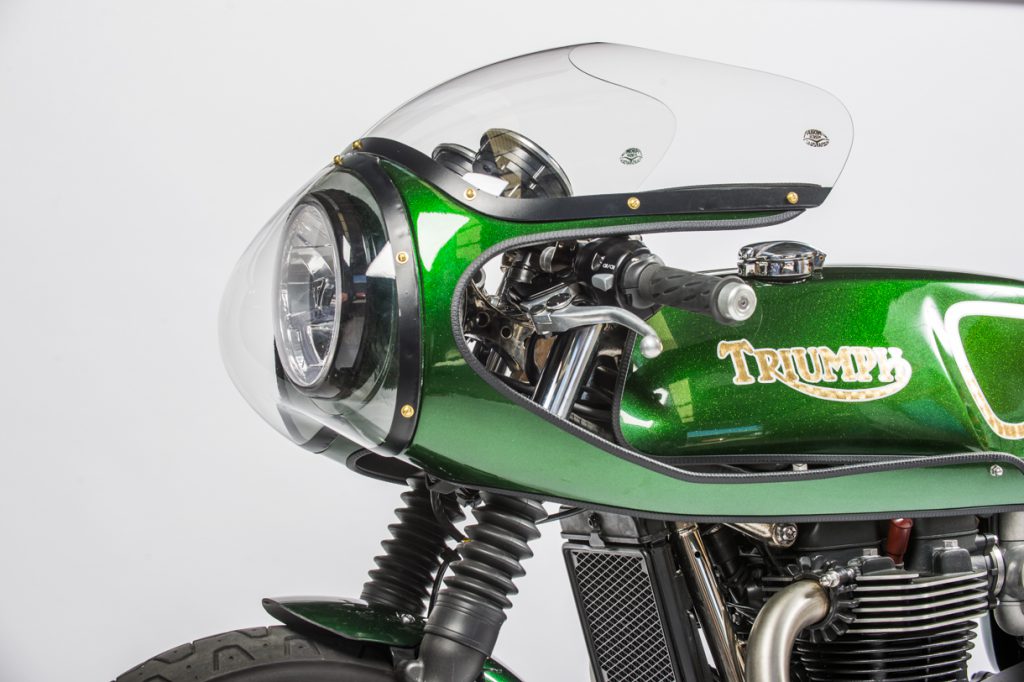 A design steeped in history
The idea I came up with was to create a custom T120 that celebrated the bikes rich history. During the 4-year development of the T120, the Bonneville celebrated its 55th anniversary which became my starting point. With a website named 'Return of the Café Racers,' I had the style pretty much set in stone so all that was needed was a third piece to solve the puzzle. I discovered the missing piece when I realized there was another company who had also celebrated a similarly important milestone in motorcycling history when the T120 was released. It had been 50 years since Rickman Motorcycles produced their first street-legal motorcycle. And what engine do you think it was powered by? None other than a Triumph Bonneville!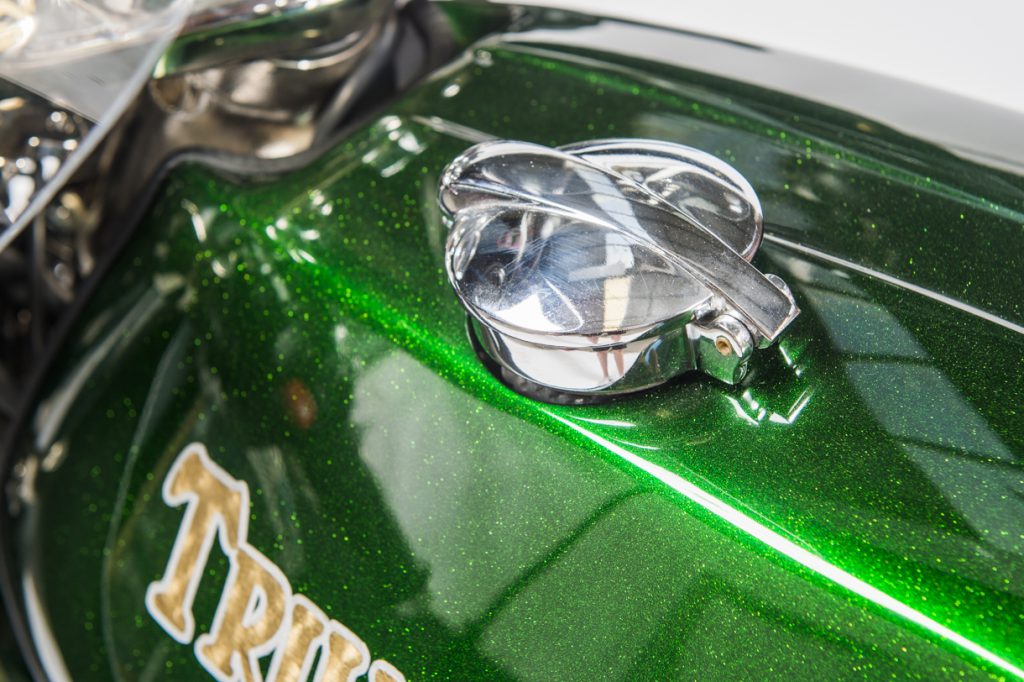 Rickman Motorcycles was a British independent motorcycle frame maker run by brothers Derek and Don Rickman. Their company reached notoriety by transplanting engines from major manufacturers, such as Triumph, into their specially made frames. Not only did the Rickman bikes look great with their shapely fiberglass bodywork and nickel plated frames, they also outperformed factory bikes at the races raising many eyebrows and forcing manufacturers to reevaluate their own designs.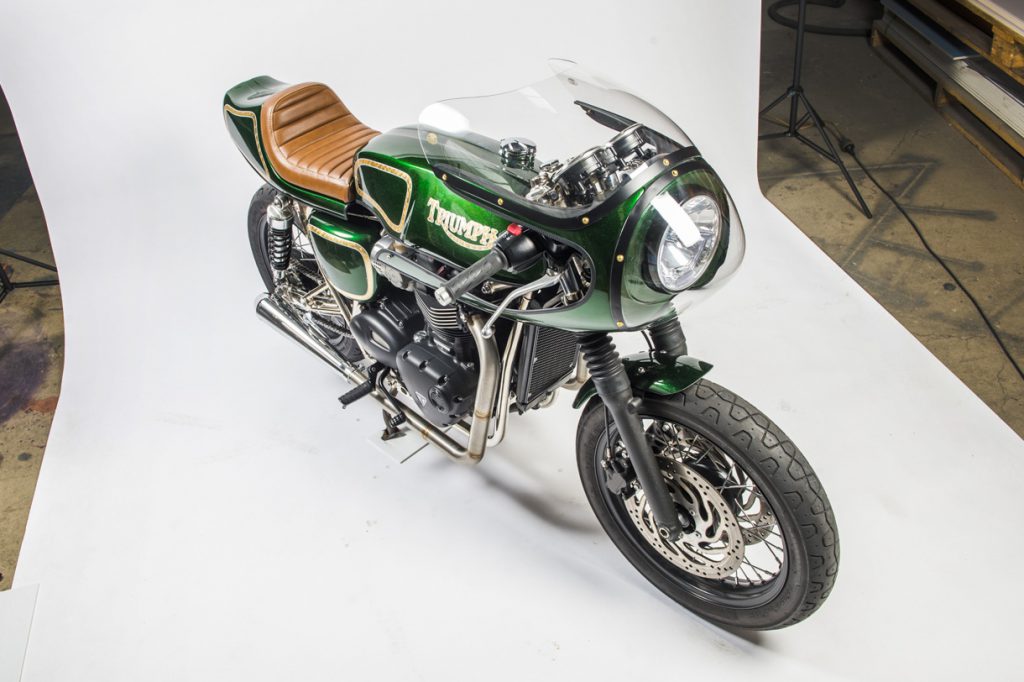 So, inspired by those factors, I loaded up Photoshop and put together a concept that featured a T120 Bonneville wearing replica Rickman bodywork and a nickel plated frame. Thanks to the classic styling of the T120 engine it looked right at home beneath the retro bodywork. I then applied a color scheme of emerald green and gold as a hat tip to those anniversary dates and it looked great. The next day I sent it off to Triumph and the response was so positive that the project was set in motion.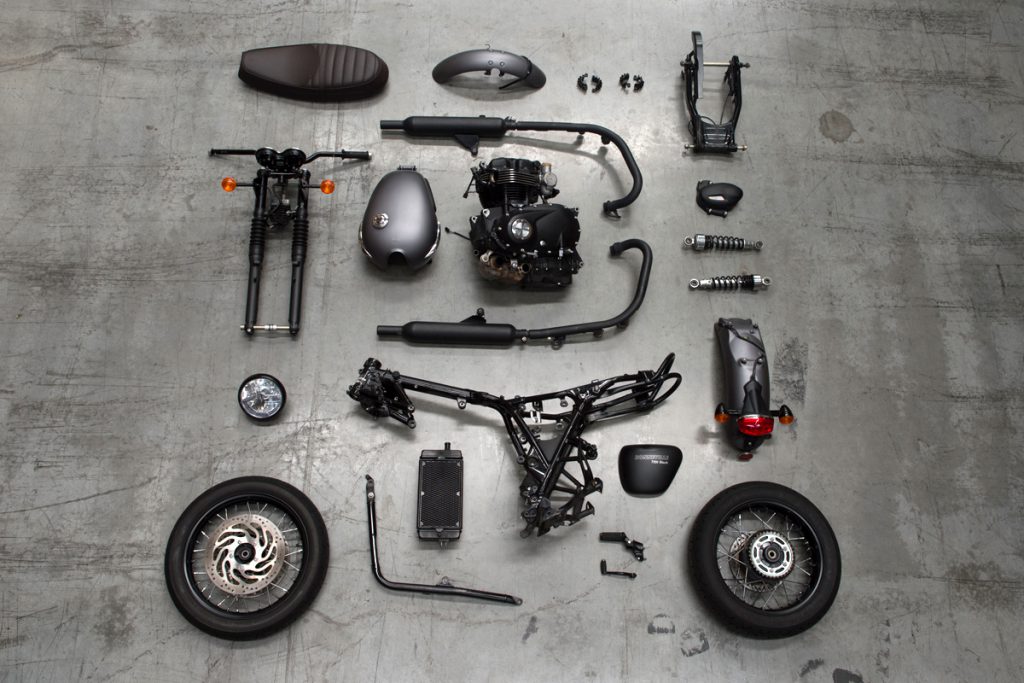 Setting the wheels in motion.
The build began at Triumph Australia HQ where they tore down a brand new T120 Bonneville Black. I opted for the Black so that once the frame was nickel plated it would really pop rather than be compete with polished engine cases of the standard Bonneville. During that time I also contacted Walt at Airtech Streamlining in California to arrange delivery of the bodywork. The replica Rickman bodywork consisted of an Avon style front cowl, a hollowed out fuel tank cover and a ducks bum tail end. To top it all off I also ordered a matching clear windscreen and nose cone from Gustafsson Plastics. A few weeks later we had a pile of Bonneville bits laid out on the Triumph warehouse floor and a fresh set of unpainted fiberglass panels.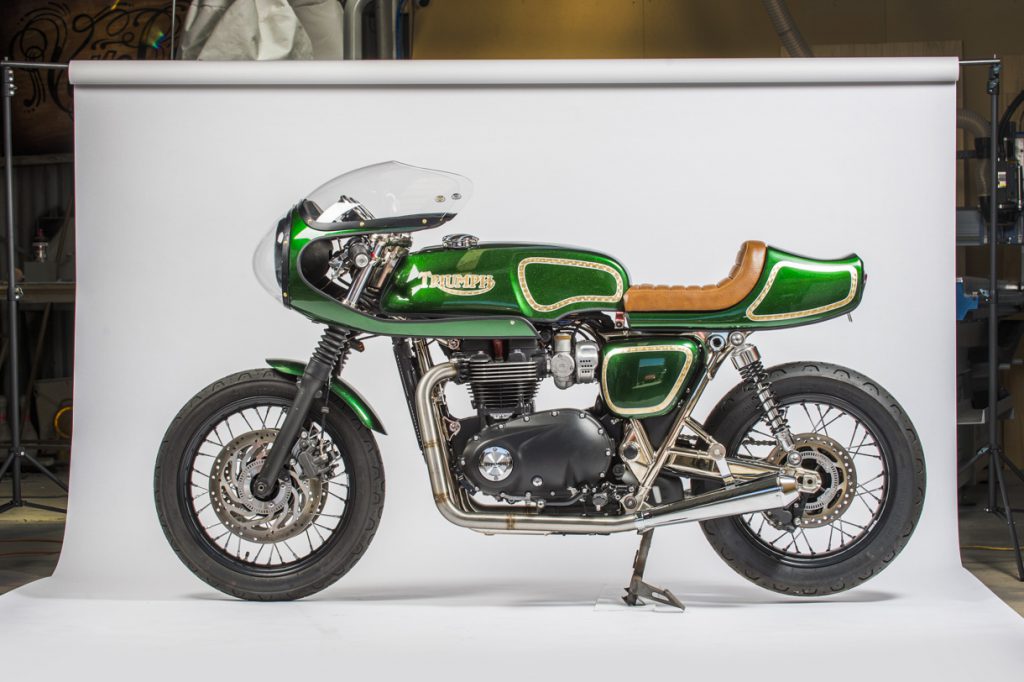 Soon after we had the Bonneville torn down I met with Karl Stehn from KDS Designs in Melbourne to discuss the project. Having worked with Karl in the past I knew he was more than capable of realizing my vision. We discussed the hurdles that would have to be overcome like the fact that the replica Rickman bodywork was not designed to fit a 2016 Bonneville T120, how we would manage the fuel injection system and the fact that we couldn't cut or modify the frame in any way. Luckily, none of this seemed to phase Karl and he agreed to take the project on.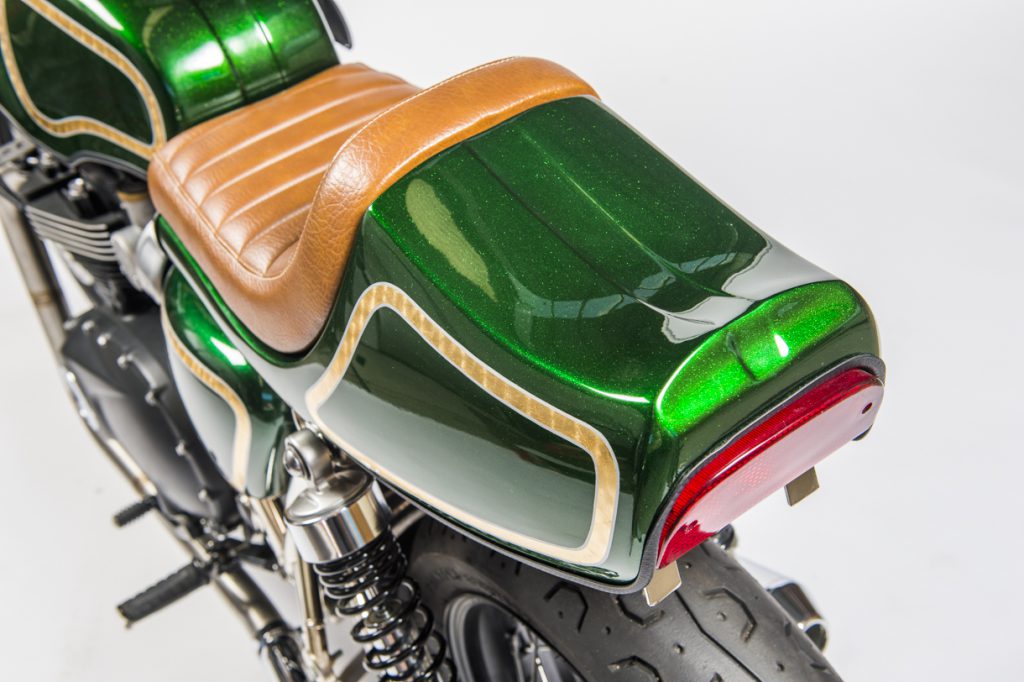 Overcoming adversity (the electronic fuel system)
Triumph delivered an empty frame, fuel tank, front end and swingarm to the KDS workshop just outside of Geelong. Karl tackled the most challenging part of the project first, the fuel injection system. After chopping up a stock Bonneville fuel tank it became clear that the fuel pump, which sat inside the stock tank, simply wouldn't fit beneath our Rickman cover, so an alternative solution was required. After discarding the stock fuel tank altogether Karl constructed a custom fuel cell that fits snuggly beneath the fiberglass shell. For fuel delivery, he contacted Triumph to get the correct flow specifications and sourced an external fuel pump that he would also house beneath the tank cover. To fit the rest of the bodywork Karl teamed up with Adam 'Hammo' Hammond to fabricate custom brackets to support the headlight, fuel tank, and tail section. With the bodywork all sitting right, Karl sent the frame back to Triumph once again so he could focus on what he does best, the paintwork.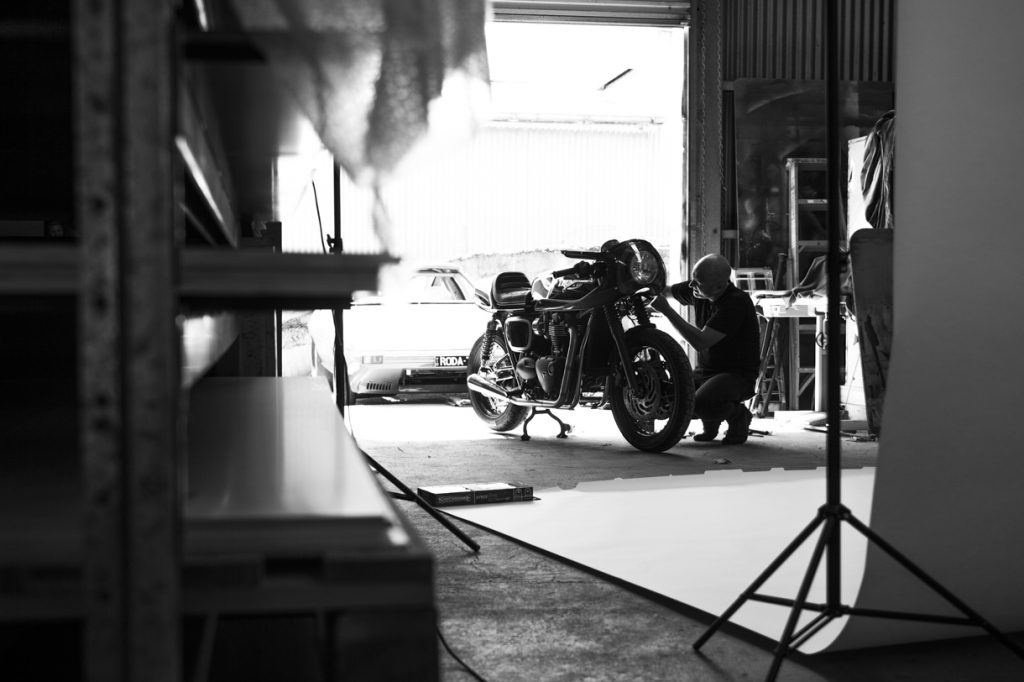 Applying the finishing touches
As a full-time traditional sign writer and custom automotive painter, Karl had no problem recreating my quick photoshop mockup, adding a few touches of his own to spice things up. He mixed up a custom emerald green bursting with metal flake which was laid as the base color. The Triumph lettering and pinstripes were then hand laid in gold leaf and he finished it all off with hand brushed silver pinstriping. For the upholstery, Karl's mates at KJF Custom Trim stepped in and put together the tan leather seat and he affixed the screen and nose cone using brass screws to compliment the gold.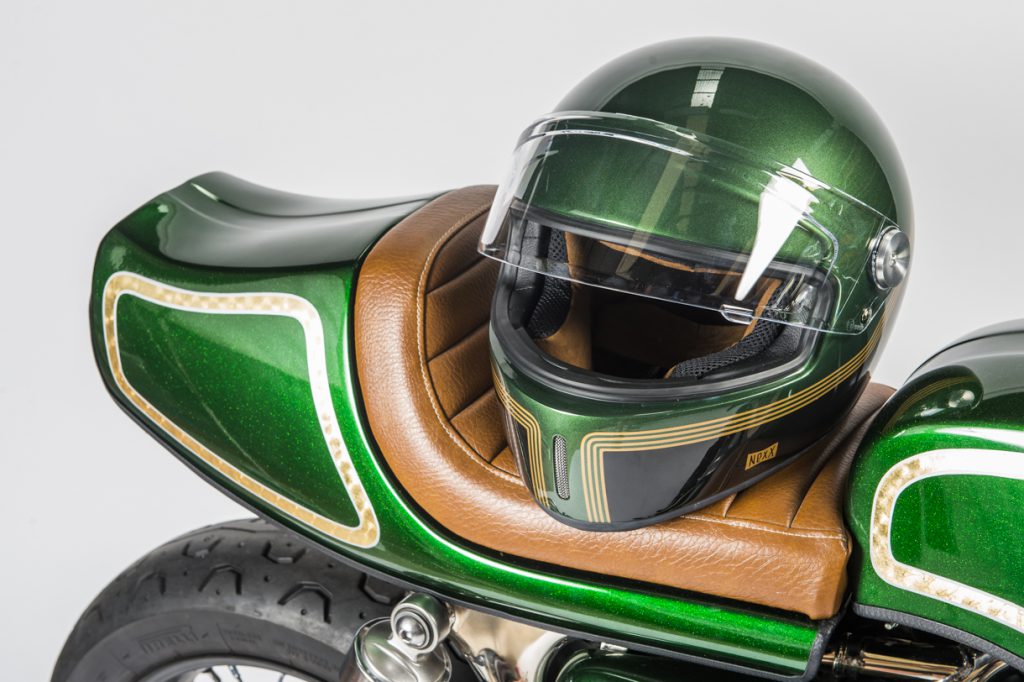 Meanwhile back at Triumph HQ tech manager Cliff Stovall prepared the T120's frame for plating. Carroll Electroplating in Tullamarine was tasked with applying the nickel to the frame, swingarm, mounting brackets and clamps to recreate the look of Rickman's iconic frames. The basic assembly came next, swapping out the original handlebars for Triumph aftermarket clip ons and rewiring the whole bike. Karl then took delivery of the rolling chassis for the final time to get everything mounted and ready for its first shakedown.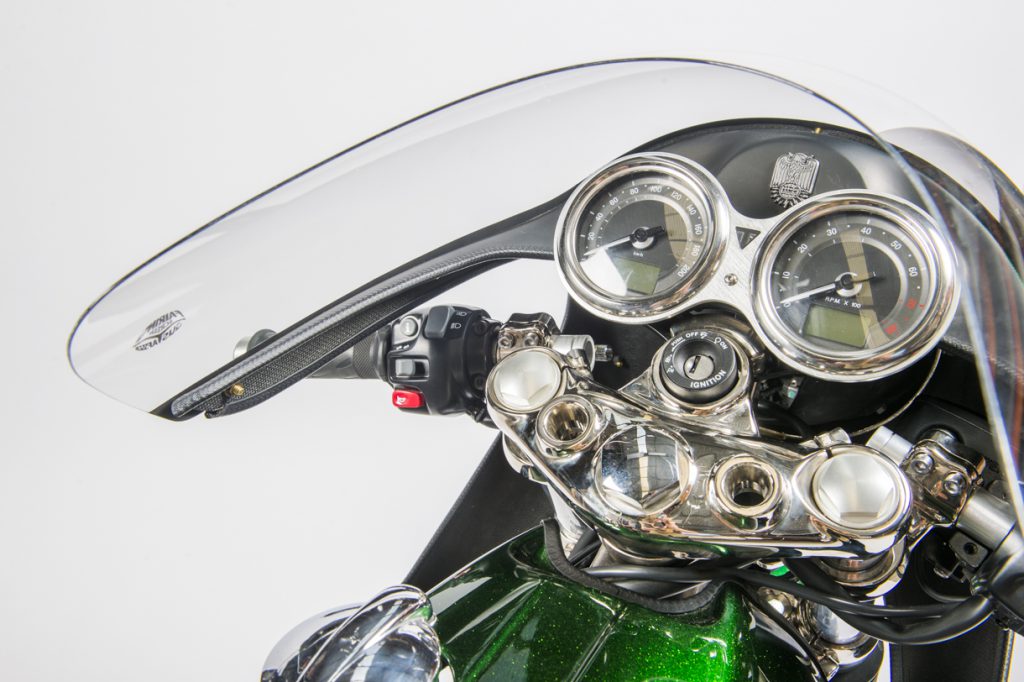 Just as the paint had finished drying (and Christmas holidays wrapped up) he bolted the bodywork to the bike. Nigel Petrie of Engineered to Slide kicked in a set of custom stainless steel headers and a pair of slip on megaphone mufflers were added to finish them off. To avoid any electrical nightmares we retained the original Triumph dials, which turned out fine since they look so good perched within the Avon fairing. Although the tail light looks like it was made for the fairing it's actually a NOS Harley-Davidson part Karl found at a local supplier that slid into place after a little trimming.
At the time of writing this feature our custom T120 Bonneville, aka 'The Mongrel', was making its final trip back to the Triumph warehouse in Melbourne for its final shakedown and tune. It took a real team effort to turn my concept into a reality and I think the results speak for themselves. Once the bike was done we shot these photos at the KDS workshop for a feature in Tank Moto Magazine.
Special thanks to Triumph Australia for their huge part in this project and o Karl for his devotion to turning a crazy idea into a reality.
Spec Sheet:
Rickman replica fairing, tank cover, and tail from Aristech Streamlining
Nickel plated frame, swingarm, triple trees by Carroll Electroplating
Custom fuel cell running off external fuel pump and regulator
Glass screen and nose cone from Gustafasson Plastics
Custom paintwork and pinstriping by KDS Designs
Standard T120 suspension, engine, and brakes
Tan leather seat by KJF Custom Trim
Headlight original Triumph Bonneville
Triumph aftermarket clip-on bars
Taillight Harley-Davidson NOS
LED indicators from Rizoma
Brass fiberglass fixings
Photography courtesy of Tank Moto Magazine
XG.100 R helmet by Nexx Helmets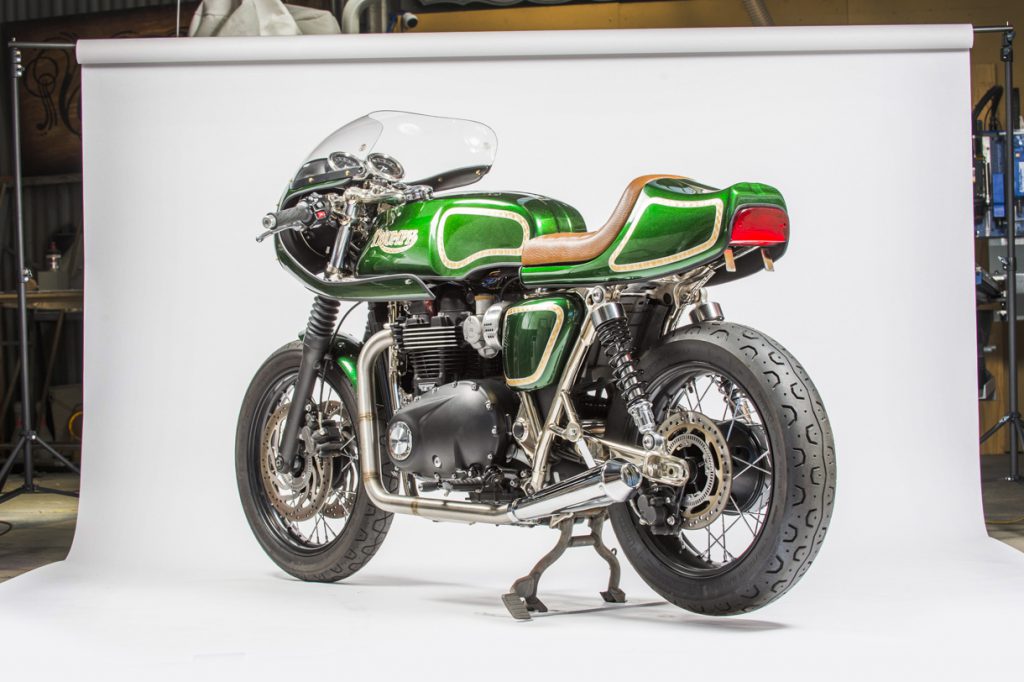 One of the perks of running a custom motorcycle website like 'Return of the Café Racers' is being invited to special events in the motorcycle industry. Back in 2016, I had the privilege of flying to London to attend the official launch of the new Triumph Bonneville range. It had been 15 years since there had been any significant changes to the Bonneville lineup and the new bikes, namely the T120, the Street Twin and the Thruxton R were well worth the wait.